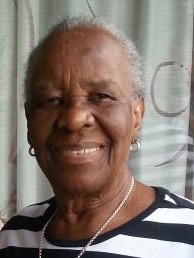 Miss me a little but not too long,
And not with your head bowed low.
Remember the love that we once shared,
Miss me but let me go.
With deep sympathy we announce the passing of our beloved mother, grandmother
and great grandmother.
Lidia Soraida Clark
Sunrise: August 5th 1929 – Sunset: September 11th 2022
Left to mourn are her:
Children: Danilo and Marianne Clark
Allan Clark
Grandchildren: Danny, Nancy, Alain, Otis and Aisha
Great grandchildren: Jair, Tuli, Nilo, Isaiah and Aivah.
Brothers and Sisters: †Petronila Richardson and family
†Rosendo Vlaun and family
Veronica Richardson and family
William (Billy) Buckley and family
Alphonso Pantophlet and family
Emilito Marlin and family
Nieces and nephews too numerous to mention.
Close friends: Jullie Richardson and family
Kate Myers and family
Stella Dupersoy and family
Gladys Felix and family
She was related to the family Clark, Allers, Richardson, Buckley, Vlaun, Pantophlet, Mc Farlane,
Marlin, Richards, Deane, Wilson, Redhead, Emmanuel, Hazel, Meyers, Rodriquez, Peterson, Arrindell and Hughes.
Our apologies if in our moments of grief, we forgot to mention someone.
The family cordially invites you to join them in celebrating her life on Thursday March 16th, 2023 at Christ Methodist Church located at Amalia van Solmstraat 3, San Nicolas Aruba.
Condolences from 10.00 am to 10.30 am.
Memorial Church Service starts at 10.30 am.
NO FLOWERS are accepted and we kindly request colourful attire.
Please NO condolences at home after the service.
Correspondence address: Family Clark, Oranjestraat 8-B, 2042 GS Zandvoort, Netherlands