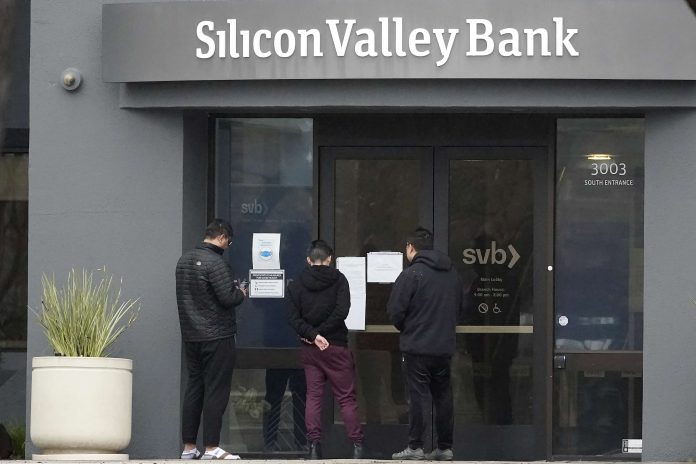 (AP) — Secretario di Tesoro Mericano, Janet Jellen a bisa ayera cu gobierno federal no ta bay rescata e Silicon Valley Bank, pero si ta trahando pa yuda e depositantenan cu ta preocupa pa nan placa.
Corporacion Federal di Seguro di Deposito ta sigura depositonan di hasta $250mil, pero hopi di e compania y hende afluente cu tabata usa e banco – conoci pa su relacionnan cu startup di tecnologia y venture capital – tabatin hopi mas cu e cantidad aki den nan cuenta. Tin miedo cu algun trahado na e pais no ta bay ricibi nan pago fin di luna.
Ayera tardi ainda no a anuncia ningun plan cu apenas oranan faltando prome cu apertura di mercadonan Asiatico. Tabatin speransa amplio cu lo adkiri Silicon Valley Bank, pero no tabata cla si un cumprado lo bin dilanti.
Oficialnan Federal a pone un limite di 2pm pa cumpradornan potencial entrega ofertanan den un findishi di gobierno pa e banco, segun un persona anonimo familiar cu e asunto. Bloomberg tabata e prome pa reporta e findishi.
Yellen, den su entrevista ayera mainta cu Face the Nation di CBS, a duna tiki detaye di e siguiente stapnan di gobierno. Pero el a enfatisa cu e situacion ta hopi diferente cu e crisis financiero casi 15 aña pasa, cu a conduci na rescate di banconan pa protege e industria. "Nos no ta bay bolbe haci esey," el a bisa. "Pero nos ta preocupa cu e depositantenan, y nos ta enfoca pa purba di cumpli cu nan necesidad."
Cu Wall Street sacudi, Yellen a purba di duna siguransa na pueblo Mericano cu no ta bay tin efecto domino despues di e collapse di Silicon Valley Bank. "E sistema di banco Mericano ta realmente safe y bon capitalisa," el a bisa. "E ta resiliente."
Silicon Valley Bank, basa na Santa Clara, California, ta e di 16 banco mas grandi di e pais. E tabata e di dos fayo mas grandi di un banco den historia Mericano despues di e collapse di Washington Mutual na 2008. E banco tabata sirbi mas tanto trahadornan di tecnologia y companianan sosteni pa venture capital, incluyendo algun di e marcanan tecnologico mas conoci.
Silicon Valley Bank a cuminsa cay den insolvencia na momento cu su clientenan, principalmente companianan tecnologico cu tabatin mester di cash mientras nan tabata lucha pa haya financiamento, a cuminsa retira nan depositonan. E banco mester a bende bono cu perdida pa cubri e retironan, conduciendo na e fayo mas grandi di un institucion financiero na Merca desde e apogeo di e crisis financiero.
Yellen a describi e aumento di tasa di interes, cual a keda aumenta pa Reserva Federal pa combati inflacion, como e problema central pa Silicon Valley Bank. Mayoria di su activo, manera bono of securities di hipoteca, a perde balor di mercado mientras e tasa a aumenta. El a bisa cu e problemanan den sector di tecnologia no ta den centro di e problemanan na e banco.
Reguladornan a confisca e activonan di e banco riba diabierna. Depositonan cu ta sigura pa gobierno federal mester ta displonible awe mainta.
Presidente Joe Biden y Gobernador Gavin Newsom di California a papia di "esfuersonan pa adresa e situacion" riba diasabra, maske Cas Blanco no a duna ningun detaye adicional riba nan proximo stapnan.
Newsom a bisa cu e meta ta pa "stabilisa e situacion lo mas lihe posible, pa protege trabao, sustento di e hendenan, y henter e ecosistema di innovacion cu a sirbi como e sosten principal pa nos economia."