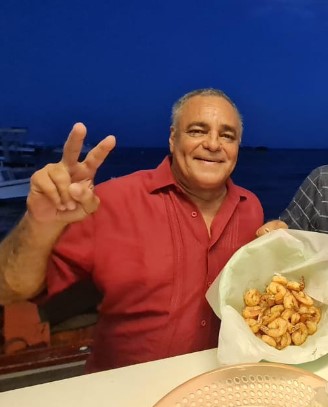 " Make music to praise God. Play music for Him!" PSALM 47:6
Cu dolor na nos curason, nos ta anuncia fayecimento di nos ser stima:
Eddy Waldemar Samson
*26-08-1950 †20-01-2023
Na nomber di su
Yiunan: Edan Samson y Drew Samson
Mama de su yiunan: Meghan Papinchak
Rumannan:
Dolfi Jansen y Ina Jansen-Martis,
†Albert Chundro y Laura Chundro-Hopmans,
†Ilse Marie Henriquez-Samson y † Fai Henriquez,
† Leyla Leyba-Samson
Johnny Samson
Leo Samson y Mercedes Samson-Croes
Kenneth Samson y Carla Samson-Wix.
Primo y primanan, Subrino y subrinanan
Mane Ruman:
Benny y Marie Heinze y famia,
Ivan y Myrna Jansen y famia.
Tur musico di Aruba
Demas famia: Samson, Papinchak, Henriquez, Jansen, Leung, Martis, Chundro, Hopmans, Leyba, Croes, Wix, Albus, Bikker, Comvalius, LoFoSang, Rasmijn, Nicolas, Mc Bene Courtar, Krind, Perse, Lacle, Gonzales., Kelly, Koolman, Kock.
Nos ta pidi disculpa si den nos tristeza por a lubida un of otro famia of amistad.
Ta lamenta cu después di entiero nos no ta ricibi bishita di condolencia na cas.
Oportunidad pa condolencia: Diabierna 27 di januari 2023 di 7:00 pa 9:00 pm, na Royal Funeral Home
Acto di despedida lo tuma lugar Diasabra 28 di januari 2023 di 8:00 am pa 11:00 am na Royal Funeral Home sigi pa e acto di cremacion cu lo tuma lugar den seno di famia.