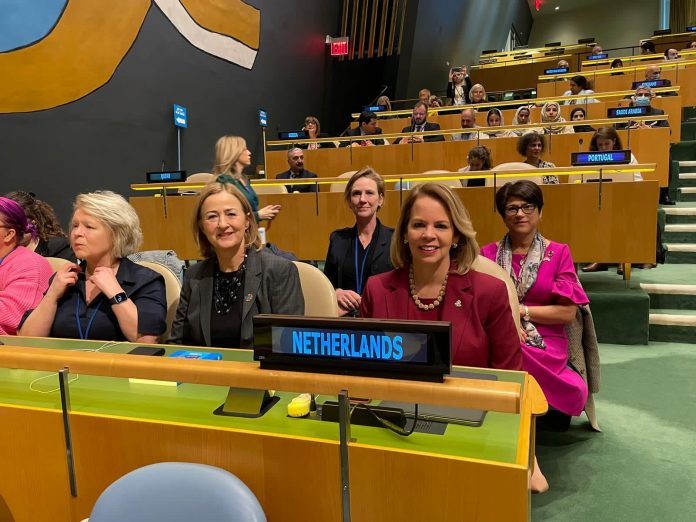 Na Nacionnan Uni, New York ta tumando luga e debate general CSW 67, Commission on Status of Women. Un biaha mas, Prome Minister ta lidera e delegacion di Reino Hulandes. Diamars atardi, Prome Minister a dirigi su discurso riba e tema di Hende Muhe y Tecnologia enfatisando kico Aruba ta haciendo pa promove participacion di hende muhe den e area di tecnologia y innovacion.
Durante su discurso, Prome Minister a enfatisa riba e impacto cu e transformacion pa digitalisacion tin riba e bida diario di cada persona. E transformacion aki a trece cu ne hopi oportunidad pa loke ta trata igualdad di genero pero tambe hopi riesgo. E ta keda na nos como hende muhe pa probecha di e oportunidadnan cu innovacion digital tin pa ofrece. E representacion di hende muhe den STEM, ICT Y R&D ta hopi crucial mirando cu ainda esakinan ta ser domina pa e ser masculino.
Prome Minister a splica cu mundo henter ta confrontando retonan grandi pa cu inflacion y cambio climatico y a realisa cu e contribucion di tur genero ta necesario pa por enfrenta e retonan. Pa cu esaki mester uza e potencial grandi cu hende muhe tin den esaki. Hende muhe y mucha muhe tin potencial grandi pa contribui na un futuro berde y digital lagando niun hende atras y p'esey nan participacion igual den esaki ta necesario.
Na Aruba, e laboratorio nacional di innovacion, tin como meta pa crea interes di mucha muhenan jong pa sigui un carera den ciencia, tecnologia, ingenieria of matematica. Universidad di Aruba tambe a establece un programa di Bachelor, Master y PHD cu enfoke riba desaroyo sostenibel pa e islanan chikito den desaroyo (SISSTEM) cu actualmente ta consisti di un participacion di 56% di hende muhe.
"Tecnologia ta e caminda pa futuro y ta e area cu hende muhenan casi no ta representa. Awor ta e momento pa nos enfoca y crea mas oportunidad pa hende muhe den e area aki, y sostene participacion di hende muhe den e area di tecnologia. Sino, nos lo perde tur e avansenan cu hende muhenan prome cu nos a logra. Hunto nos por logra esaki", Prome Minister Evelyn Wever-Croes a enfatisa.