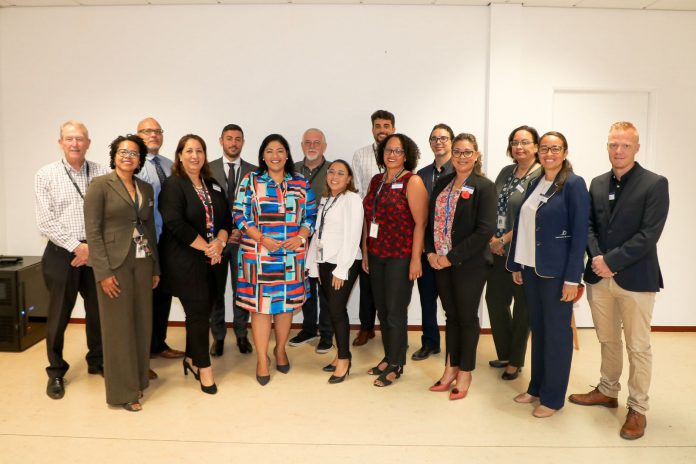 Den e dianan aki Departamento di Impuesto DIMP ta ricibi bishita di un team di Global Forum on Transparency and Exchange of Information for Tax Purposes, cu ta evalua e sistema di DIMP pa por comparti informacion fiscal na un manera sigur internacionalmente.
E evaluacion aki ta importante pa Aruba por cumpli cu e standardnan internacional di OECD pa crea transparencia fiscal y pa mehora cumplimento fiscal. Un resultado positivo lo demostra cu Aruba por ricibi informacion fiscal di otro paisnan y trata esaki na un manera confidencial protegi pa leynan necesario y procesa pa un sistema electronico den cual e data ta debidamente sigura.
Dialuna mainta Maduro a topa cu e team di evaluacion cu ta consisti di sr. Lloyd Garrochinho di Global Forum Secretariat y representantenan di Paisnan miembro di OECD, Sr. Felipe Morales di Brazil y Sr. Brengt Nilsson di Suecia, cu ta expertonan di departamento di impuesto di nan respectivo Pais. E mandatario a hiba un discurso den cual a repasa e caminda cu nos a bin ta cana pa asina por cumpli cu e reglanan di OECD pa asina Aruba tambe por figura entre e Paisnan na mundo cu ta brinda transparencia fiscal y por ricibi y comparti informacion fiscal na un manera sigur. Minister Maduro ta gradici e team di DIMP pa nan trabou y ta desea nan hopi exito cu e evaluacion importante aki pa DIMP y pa Aruba.
E resultado preliminar di e evaluacion por wordo spera na juni y den e proximo reunion plenario di OECD cu ta tuma luga mas den fin di aña, Aruba lo conoce e resultado final.